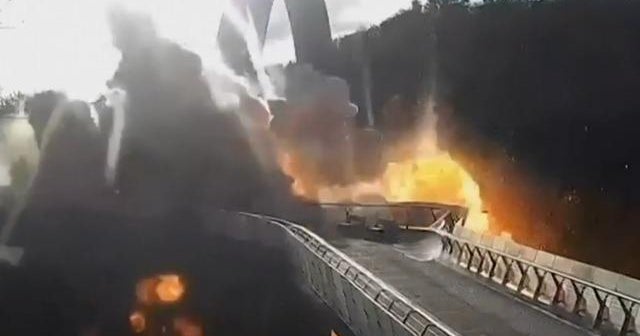 LISBON – Every day feels like 9/11.
This is how Sasha Tomev describes life in Kiev at the height of the war. He and his wife, Yana, are raising their three young sons under the threat of rocket attacks.
Sometimes boys can go to school. In other cases, they have to study remotely. This week they are teaching remotely due to the high risk of rocket attacks
Raised in Ukraine, Sasha and her seven siblings later came to the United States when their parents served as pastors at the United Pentecostal Church International, which they founded in Sacramento, California.
Sasha and his brother Vasya lived in Canton, Ohio for several years to study with a local pastor and attend the UPCI-affiliated Destination Institute founded by F. By Joe Ellis in the early 1990s.
Sasha and Vasya visit and serve in Salem, Ohio, and keep in touch with friends there, while Vasya and her sister Tanya and their family live in the Canton and Massillon areas.
Meanwhile, Sasha and his older brother Sergei and their parents were stationed in Kiev to continue the war to build their church and teach at the Purpose Institute.
Through donations from around the world, the Church has helped bring food and supplies to many people in the area.
Fortunately, no one in the church or their families was hurt or killed during the war, although they witnessed the devastation in person every day.
Immediately after the shelling of the capital and its surroundings on October 10, Sasha said . "It's exhausting, but we're not giving up."
In fact, one of the rockets fell on the street where Sasha's mother-in-law works.
As well as counting down the days until the war begins, the Tomevs wonder when the war will end and keep their hopes up through prayer, knowing that thousands around the world are watching and praying.
Sasha and her brother have updated their social media pages to keep as many people as possible informed, though social media posts went dead at a time when the family, like many others in Ukraine, lost internet access. earlier this year.
Families mourn not only Ukrainians, but also Russian soldiers and civilians.
On September 29, Sasha's father, Vasyl, detailed the consequences of the war on his Facebook page, describing the Russian attack near Kiev at that time.
"There were bodies in the streets, houses were destroyed, people were shot in cars," he said. "People tried to leave the city, but they were shot. Millions of people became refugees and could not return after the war because their homes were destroyed. "Many remain unemployed and without means of livelihood."
Sasha says the war is physically and emotionally draining, and she worries about the effect it will have on her children. Still, he and his family remain grateful.
They are grateful for the overwhelming support from family and neighbors and from around the world.
"We thank the people of Ukraine and all those who prayed for us and supported us in our ministry so that we could be here and help those people in any way possible," said his father, Vasyl.
A mother from Kyiv recounts her life during the Russian airstrikes